We recently had this lovely example of a Range Rover Evoque into the workshop.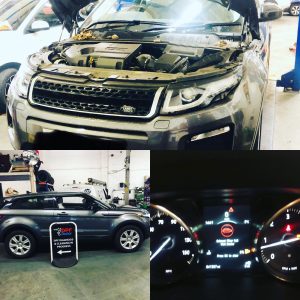 This vehicle was recovered in to us from a main Land Rover dealer with fault codes relating to the DPF being blocked. P2463 and P246B were present.
The main dealer had informed the customer that a new DPF would be the fix to this issue at a cost of over £1800!
Naturally after a quote like that,  the customer wanted a second opinion so contacted us to give the vehicle a check over – who wouldn't?
We conducted our standard process when we are faced with any DPF issues and checked all the vehicle systems relating to DPF operation and health.
After identifying the cause of the blockage, we were able to repair the vehicle and restore the vehicle back to good working order, without replacing the DPF.
Our customer was over the moon that we have saved her over £1500, especially just after the Christmas period when money is tight for everyone!
Having specialist knowledge and years of experience on working on DPF and Adblue systems meant that we could identify issues that the main dealer could not and safely repaired the issue.
We even provided the customer a handy tips card to ensure she understood what she needed to do in the future to take care of the DPF on the vehicle and ensure the issue doesn't happen again!
If you have any DPF issues or have been quoted on a replacement DPF, then give us a call. We would be happy to offer advice or book you in for an assessment to save you money and find the cause of your issue.