How to Fix Volkswagen Golf GTE Ignition Issue
Imagine hitting two targets with one arrow. Does that sound unique to you? It is something you would see in movies but not in the real world. Well, believe it or not, it happens more often than not. If you drive an EV or a hybrid you know that feeling very well. And that is what driving the Golf GTE feels like. The car not only offers exceptional performance but is also incredibly fuel-efficient.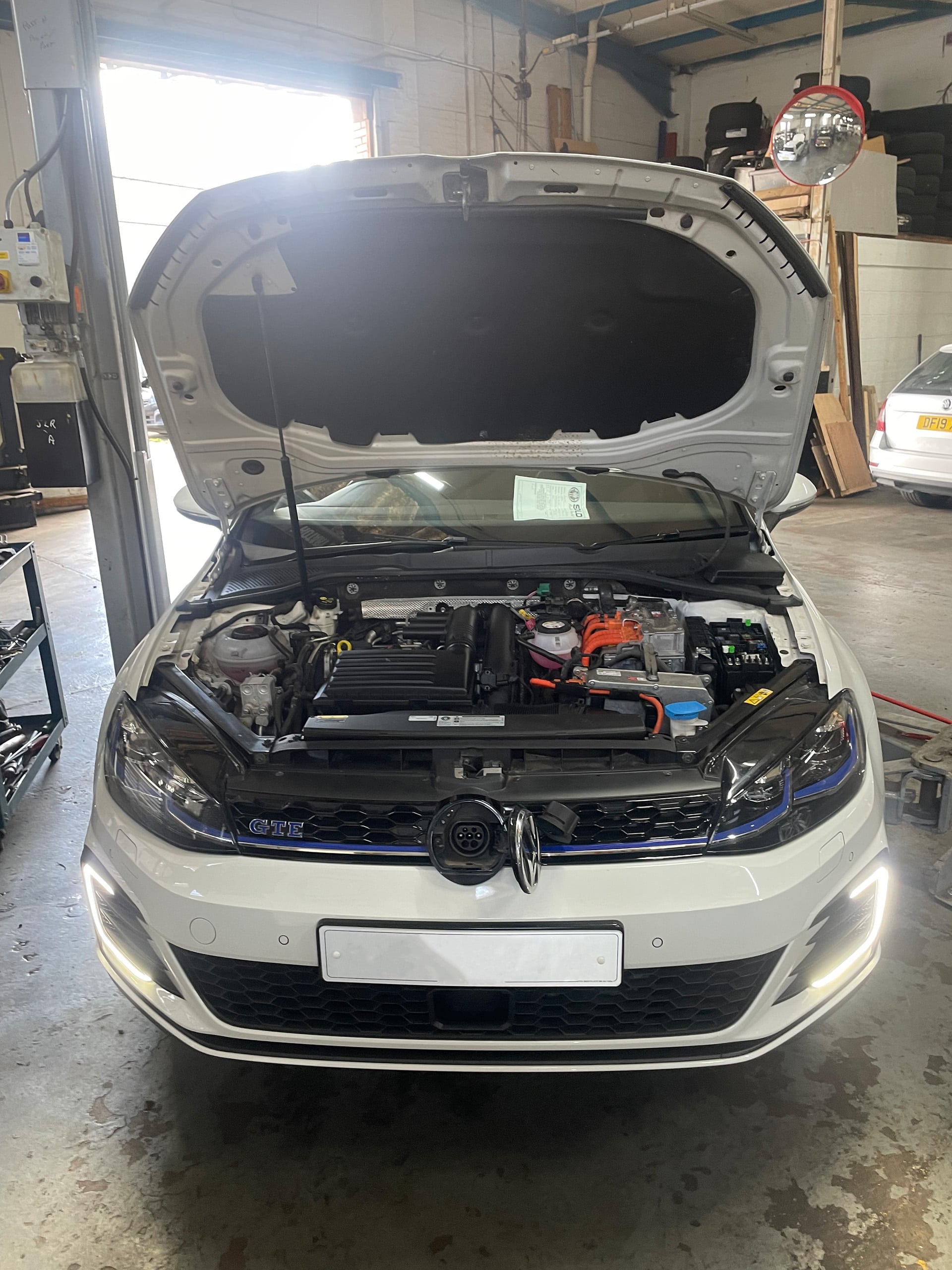 It would be a treat to drive a car like that. But what if a Golf GTE fails to start, and no matter how much you try, the engine refuses to budge?
Seems like the perfect fuel for a nightmare, but that is exactly what befell our client, who brought in his 2018 Golf GTE with ignition problems.
The owner tried countlessly, but regardless of their efforts, the car wouldn't start, and to make matters worse, it wouldn't even turn over.
Honestly, it is not something you would expect of a VW vehicle, especially one that is hardly four years old. Volkswagen cars are highly reliable and known for their long life. So, to hear something like this is unusual.
Fortunately, the client brought their car to Fitch Autos, where our technicians got to work.
Faults Found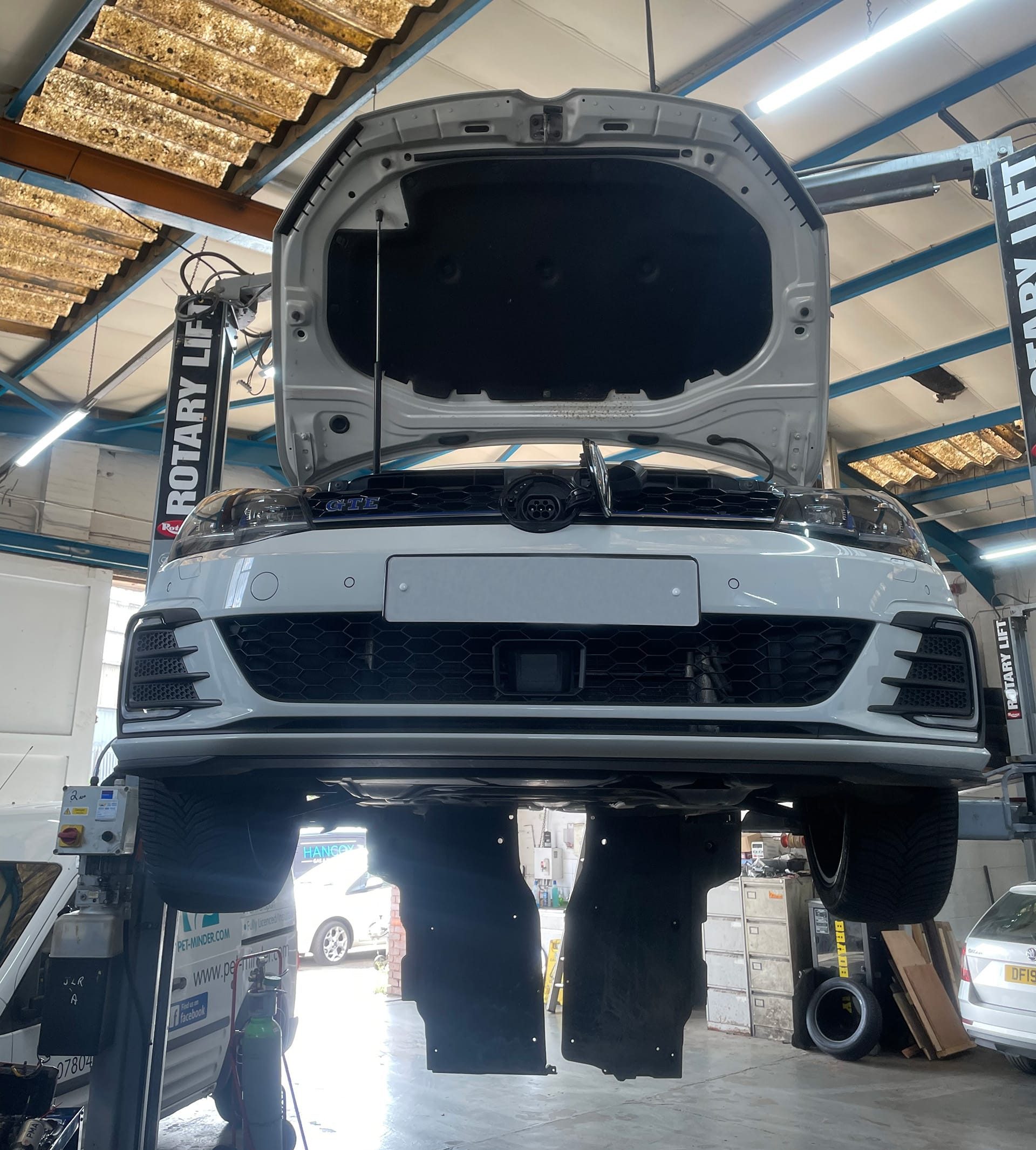 Our highly-qualified technician Matt performed the initial diagnosis on the VW Golf GTE and found the vehicle's electrical system to be at fault.
The 12v battery was flat, and there were high voltage issues. In essence, two major parts of the hybrid vehicle were not functioning properly. That is why the car wouldn't start. Understandable! But why was there no turn over? If nothing, the car should at least make that cranking noise when you turn the ignition.
Do you know that distinct sound that accompanies a car start? The client had neither that nor ignition.
To the untrained eye, it might seem unusual, but those who are proficient in dealing with hybrid vehicles know something you might not.
The reason is that the Golf GTE has a hybrid system that does not depend on a starter motor to ignite the engine. When you activate the switch, it is the hybrid system that comes to life first, and then it decides when and if the engine must start. So, any failure in the vehicle's electrical system would directly result in ignition problems.
Using this information Matt directed all his efforts to solve the issues effectively. However, due to the high voltage issues the Golf presented, our technician had to use his EV level 4 training. The specific training allowed Matt to safely test the vehicle without harming the car, its battery and himself.
At Fitch Autos, we strive to reach the highest levels of professionalism, which is why our technicians follow a 15-step diagnostic process. Not only does it help us find the root of the problem in record time, but it also saves you valuable time and money. Thanks to the 15-step procedure, you can leave Fitch Autos with the utmost confidence that the issues you previously had won't plague you anytime soon.
Diagnostic Procedure  
A lot of people ask how the 15-step diagnostic procedure helps technicians. Well, it helps the technician move through the diagnosis step by step. So, they miss nothing, and your car is inspected in the best way possible.
The 15-step diagnostic procedure is thorough and foolproof. Under its guidance, Matt used the ODIS diagnostic tool to check for fault codes, and all the ones related to high battery voltage and no communication lit up.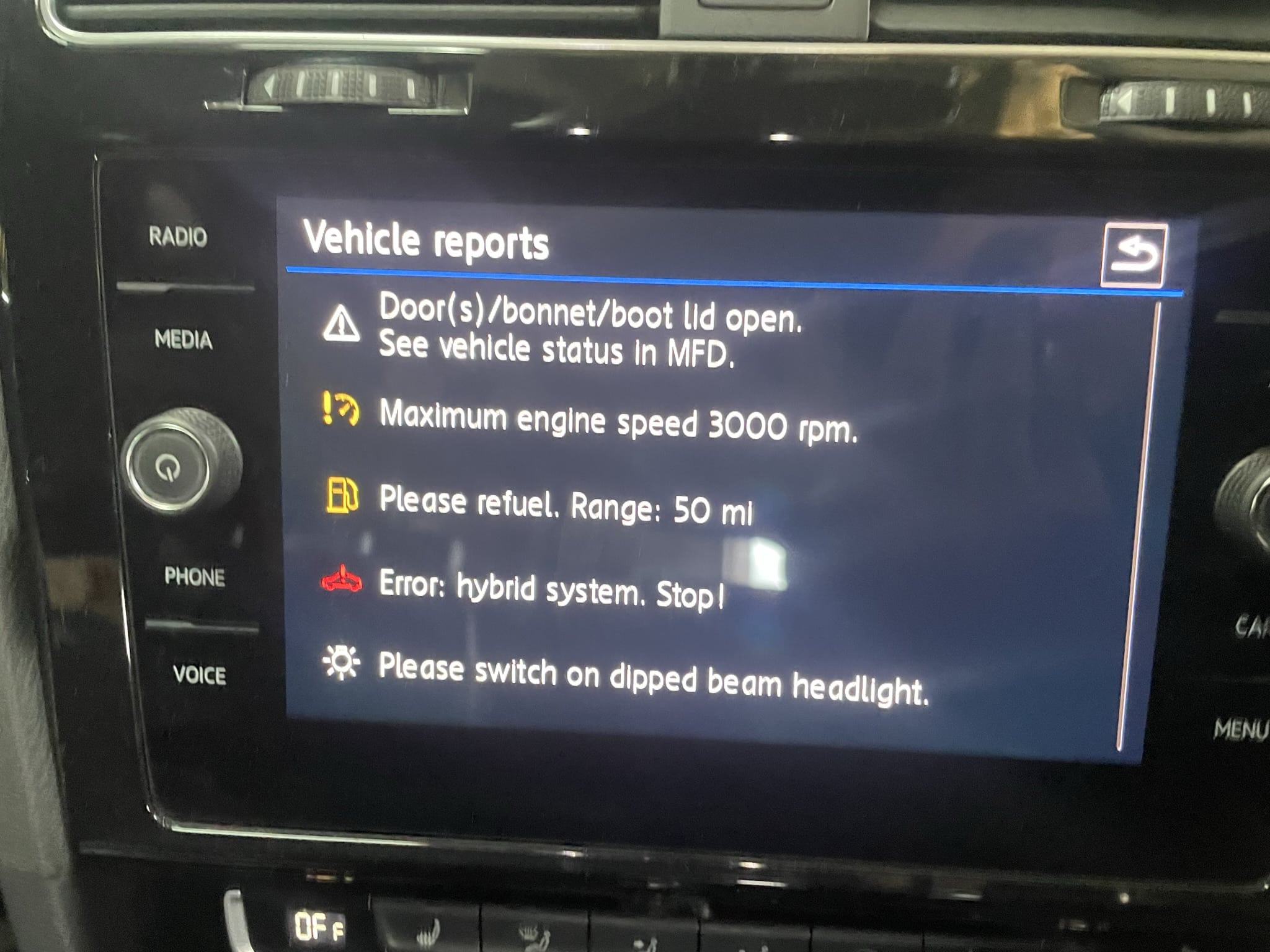 Once the issue presented itself, our technician moved to consult erWin – the official VW electronic repair manual and used that to study the wiring diagrams. This allowed him to pinpoint the fault area and ascertain the root cause of the issue.
Matt checked the complete length of the basic electrical wiring and inspected the battery connections. It turned out the 12v battery was completely flat. So, to ensure the diagnosis was correct, our technician charged the 12v battery and tested the entire system. Matt also carried out wiring checks for high voltage issues and other related modules.
Such problems can prove to be extremely dangerous, especially if you have a large battery underneath you. High voltage can disrupt the electrical system and damage the battery. And from what we have seen, damaged batteries can explode when damaged. Thankfully, our technician is level 4 EV certified by the IMI.
Therefore, it is better to visit Fitch Autos before things go awry and you are calling the fire station instead of our garage's number.
The Fix for the Electrical Fault
After carrying out all the relevant checks and testing the Golf GTE, our trained technician started with the repairs.
Unfortunately for the Golf owner, the vehicle could not move without getting some repairs. Our technician, Matt, did a super job finding the missing link between the 12v battery and the hybrid battery module.
Thankfully, it turned out to be something as simple as a broken wire, which Matt repaired. After identifying the issue, our technician retested the complete system for efficiency, cleared all the fault codes, and charged the hybrid battery.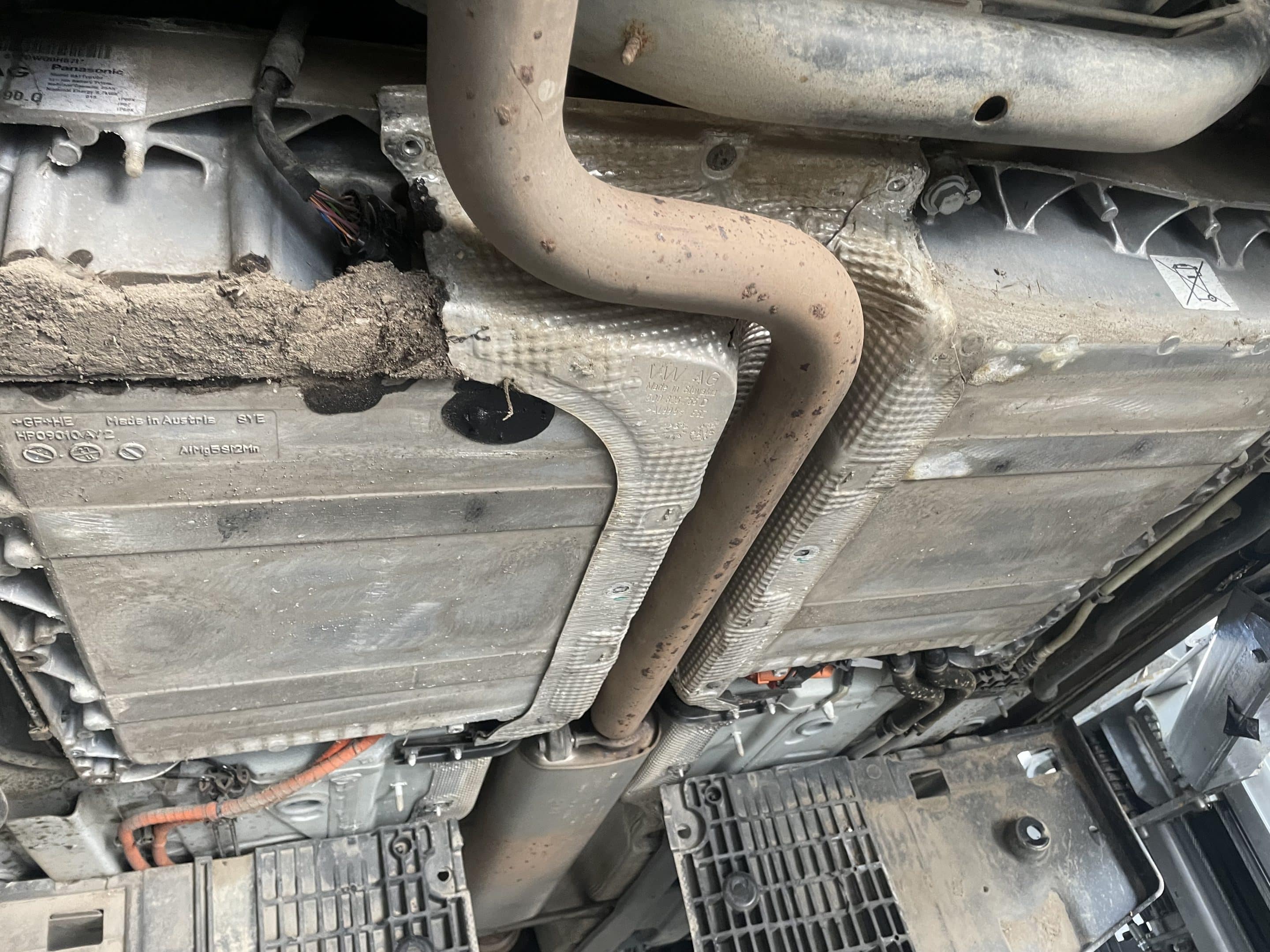 Fortunately, everything turned out to be working fine, which resulted in a sigh of relief from the car's owner.
Our Commitment & Your Satisfaction
It was thanks to our technician's knowledge and expertise that the issue could be resolved in the least possible time. He took the least possible time and used the right information, skills and tools at the right time to diagnose and solve the problem.
Keep in mind, that the Golf GTE only had a broken wire that didn't require replacement. We have heard terrifying stories of people replacing their 12v battery as well as the hybrid battery module for an issue as simple as a broken wire. These parts cost a lot of money, so it's always worth asking for a second opinion if this is what your current garage is recommending.
However, at Fitch Autos you only get an invoice for the work done to your car. We do not charge extra, and our technicians do not indulge in any malpractice.
To top that off, we also offer great value. But the real icing on the cake is our technician's training. Matt is Level 4 EV trained, which means he has the proper expertise to handle damaged batteries and high voltage issues. He also has an EV charger along with the proper cache of EV safety equipment and tools to go with his certification.
The training and the tools allow him to work with ease around electric and electrified vehicles. That is becoming somewhat of a requirement in today's world.
Electric vehicles are increasing in number and we need more technicians, like Matt, who understand their issues.
It is thanks to our technicians' commitment to EV and high voltage vehicles, that Fitch Autos is in a respectable position today, and we can dispense industry-leading services to our clients.
If you are having problems with your Volkswagen or any other hybrid or EV, come over to Fitch Autos, and we will make it worth your while. You can call us at ­­­­­01543 401257 to get an expert service locally.