What's included in a Mercedes B service?
Mercedes is a luxury car brand that has a reputation for precision engineering. As with all precision engineering, your Mercedes will need to be regularly maintained to ensure that it continues to perform at its best.  
Mercedes knows what it takes to keep their vehicles performing optimally – that's why they offer two different types of services – 'A' and 'B'. 
At Fitch Autos we follow the Mercedes recommended guidelines, whether we are servicing your Mercedes or fixing a complex electrical or mechanical issue.
To ensure your safety, you should never miss your scheduled service. Whether it's a Mercedes A or B service, your vehicle needs them to keep you safe and your warranty intact. 
Mrs F knew her Mercedes CLA was due a service but wasn't sure what type. The last thing she wanted to do was book in for the wrong one.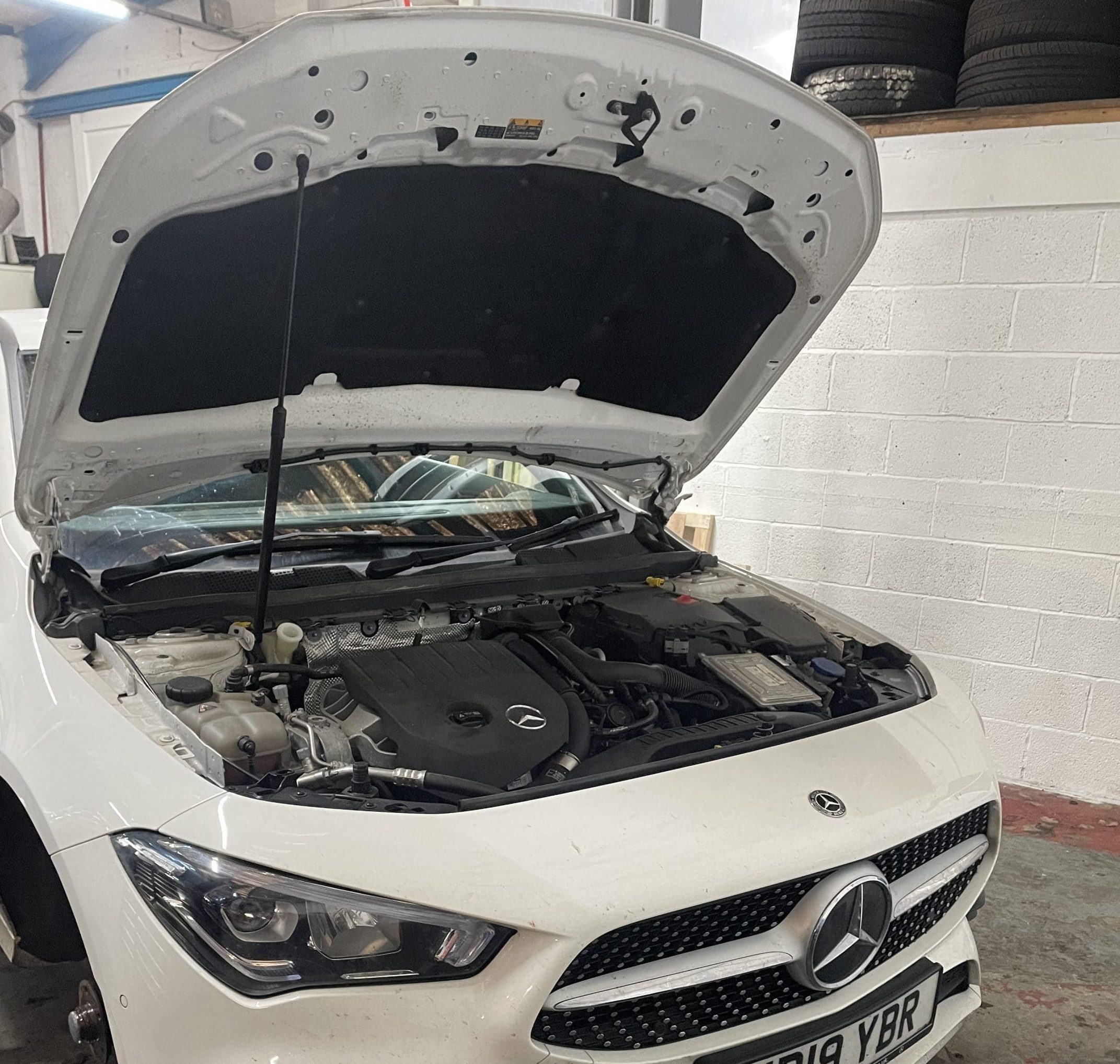 Luckily, our specialists at Fitch Autos have plenty of experience servicing Mercedes vehicles. They have the know-how to solve any issues thrown at them, finding problems other garages might miss.  
Every Fitch Autos Mercedes service includes a full safety inspection, giving you excellent value while keeping you safe. We aim to solve any problems quickly, without sacrificing your safety. 
During Mrs F's  Mercedes service, our specialists found something worrying, but we'll talk about it in a moment.
What's the difference between Mercedes A service and Mercedes B service?
We often get asked what's the difference between a Mercedes A service and B service? 
So let us try and highlight the main differences between these two Mercedes servicing options.  
A Mercedes A Service will most likely be required once your vehicle reaches one year old, and typically every 2 years thereafter.
Mercedes A Service includes:
     

Synthetic motor oil replacement

     

Oil filter replacement

     

Tyre inflation check & correction

     

Brake component inspection

     

Reset maintenance counter
The Mercedes B service, on the other hand, is a more extensive service. It's best suited for older Mercedes or for those that have clocked up more mileage. A Mercedes B service is typically required one year after your Mercedes A Service. (The Mercedes B service alternates in between the A Service and is due approximately every two years, depending on your vehicle's mileage). 
Service B Includes:
     

Synthetic motor oil replacement

     

Oil filter replacement

     

Cabin dust/combination filter replacement

     

Brake component inspection

     

Reset maintenance counter
When Mrs F came to us at Fitch Autos, she didn't know what type of service was required.
Luckily, at Fitch Autos, we have access to the same manufacturer information as the main dealer, so our Mercedes service specialists knew that they could help Mrs F. 
What happened next
Our specialists checked the Mercedes digital service records and found Mrs F's CLA was due for its bi-annual B service.
Once our experts knew what type of service was required, they carried out the necessary work replacing the oil, air and fuel filters.
At Fitch Autos our priority is to keep our customers safe and that's why we undertake a thorough safety inspection on all Mercedes services. 
Mrs F was very pleased that we had her safety in mind because during our additional safety checks we discovered an issue with the braking system on her Mercedes.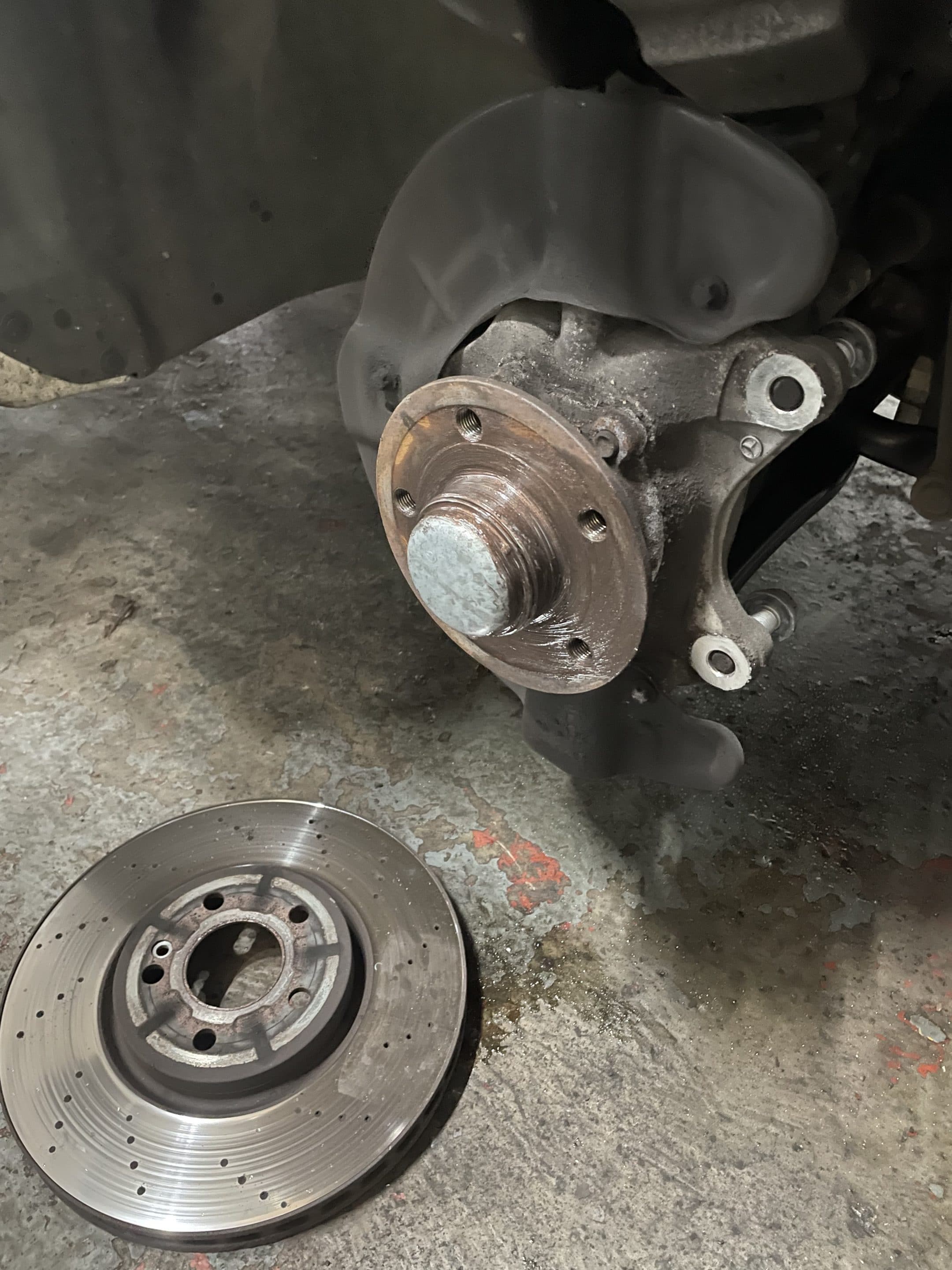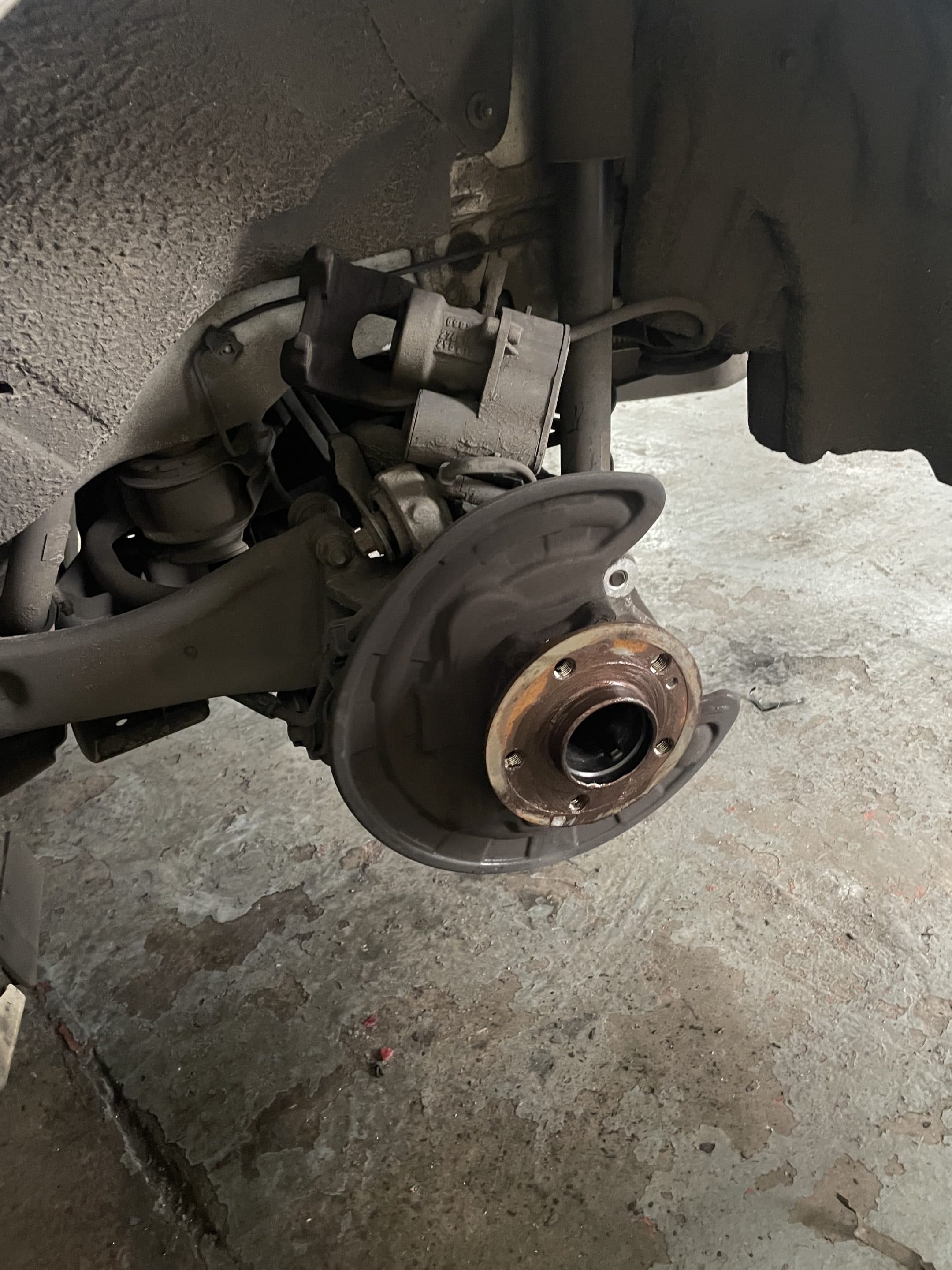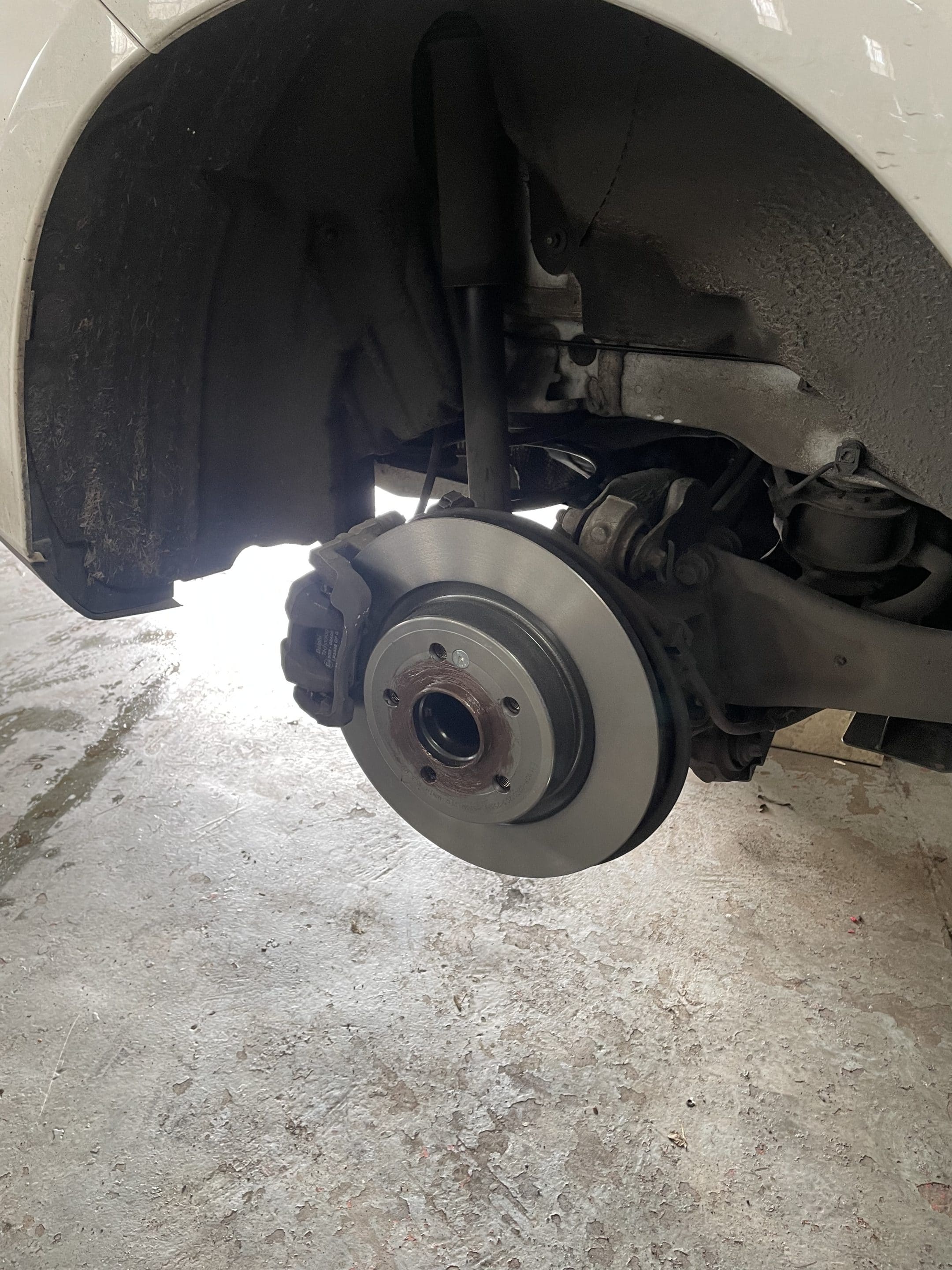 We found the brake discs on the front and rear were dangerously below the minimum thickness – they needed urgent attention.
Replacing brake pads, discs and brake fluid isn't part of the standard Mercedes B service. But, our Mercedes service experts are very thorough during a Fitch Autos service.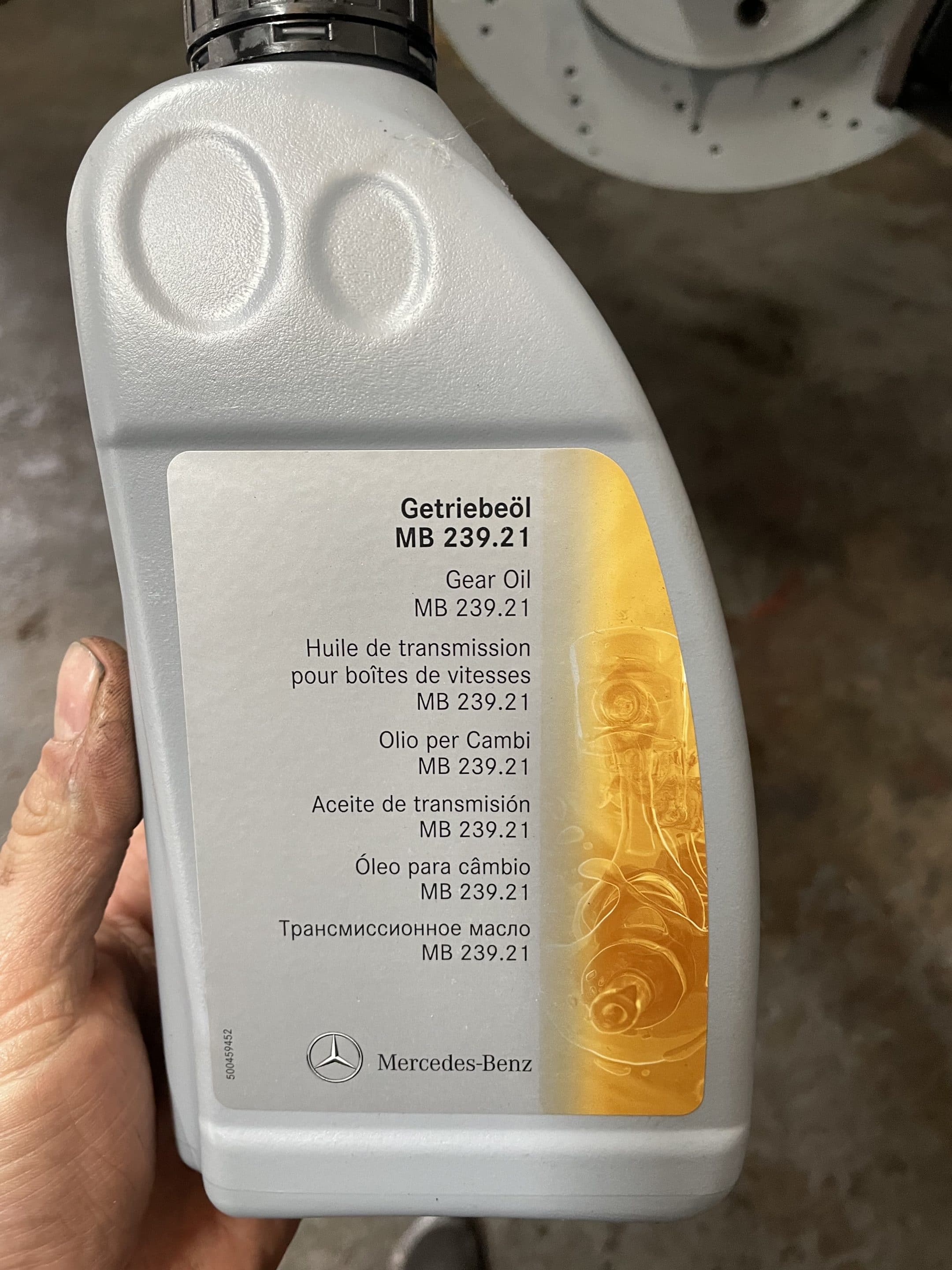 We use our advanced knowledge and evaluation process to test the braking system of all Mercedes vehicles brought to us for a service. No guesswork, just accurate testing and measurement.
Poor quality brakes are one of the UK's leading causes of road accidents and should always be addressed immediately. It's not only illegal to drive around with poor brakes, but it puts your safety at risk.
The last thing you want is to get into trouble with the police or have an accident.
We check every inch of your car to ensure it's roadworthy.  Our Mercedes service experts spot the smallest problems early on and prevent them from becoming costly.
Once we spoke to Mrs F about the dangerous level of her CLA's brake discs, she immediately gave us the go-ahead to replace them.
To keep Mrs F on the road while we worked on her Mercedes, we offered her a free courtesy car. Most Mercedes B services take around 2 hours to perform, so a courtesy car isn't always needed, but we like to give you the option. 
This is something the local Mercedes dealership doesn't provide, as they will typically charge you to use their courtesy cars.
Solving the issue
As Mrs F's brakes weren't roadworthy, we sourced genuine Mercedes brake discs and pads to give her car the quality it needs; guaranteeing her Mercedes warranty remains intact.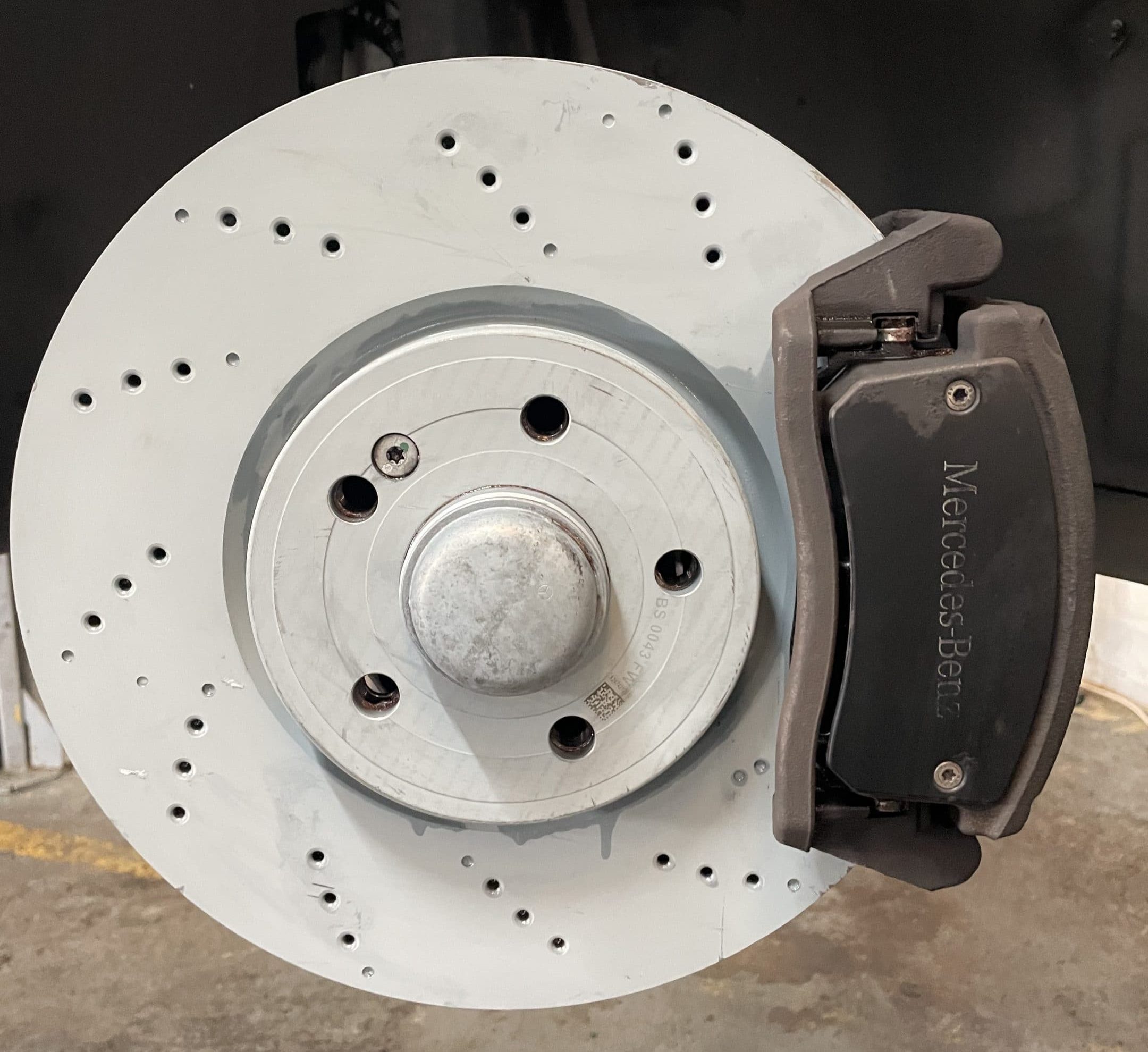 Once the brakes were replaced, we performed extensive road testing to ensure the Mercedes CLA was safe to drive and the brakes were working optimally. We then updated the Mercedes online service history to ensure the Mercedes manufacturer warranty was maintained.
The CLA passed all of the safety tests, and our Mercedes service specialists were pleased to hand Mrs F her keys.
She was impressed to have her car back on the same day she dropped it off. At Fitch Autos, we aim to have a faster turnaround than the main Mercedes dealership and offer great value without sacrificing quality.
Summary
Mrs F's Mercedes CLA required its annual service, but she wasn't sure which type was needed.
Thankfully, our Mercedes service specialists are experienced and have the know-how to accurately identify what Mercedes service is needed.
This Mercedes CLA needed a B service, which our experts are very familiar with.
During our additional free service safety checks, a problem was found with the car's brakes – each brake disc and pad were below the legal minimum thickness. 
To ensure Mrs F's safety, our Mercedes specialists sourced genuine parts and replaced the brake discs and pads on the same day.
Mrs F was pleased to have her CLA back in peak condition, and she drove out of our garage with complete confidence her car was safe to drive.
If your Mercedes is due a service, but you're unsure what type you need, speak to our experts at Fitch Autos.
Call us on 01543 452630 and book your Mercedes service.