Mercedes C220 AMG Sport
At Fitch Autos, we make client safety our priority.  Our Mercedes Specialist technicians work together to make sure all vehicles in our care are diagnosed and fixed with the care and attention that every client deserves.
We are the local Mercedes Service and repair garage in Brownhills.  With over 40 years of experience and using only genuine Mercedes parts ensures that clients receive their first-time fix every time.
Our unique 15 step evaluation process means that our Mercedes specialists can get to the root cause of the problem, not replacing parts that don't need it, giving our clients the peace of mind that their car is in safe hands. They would receive the best customer service and value for money.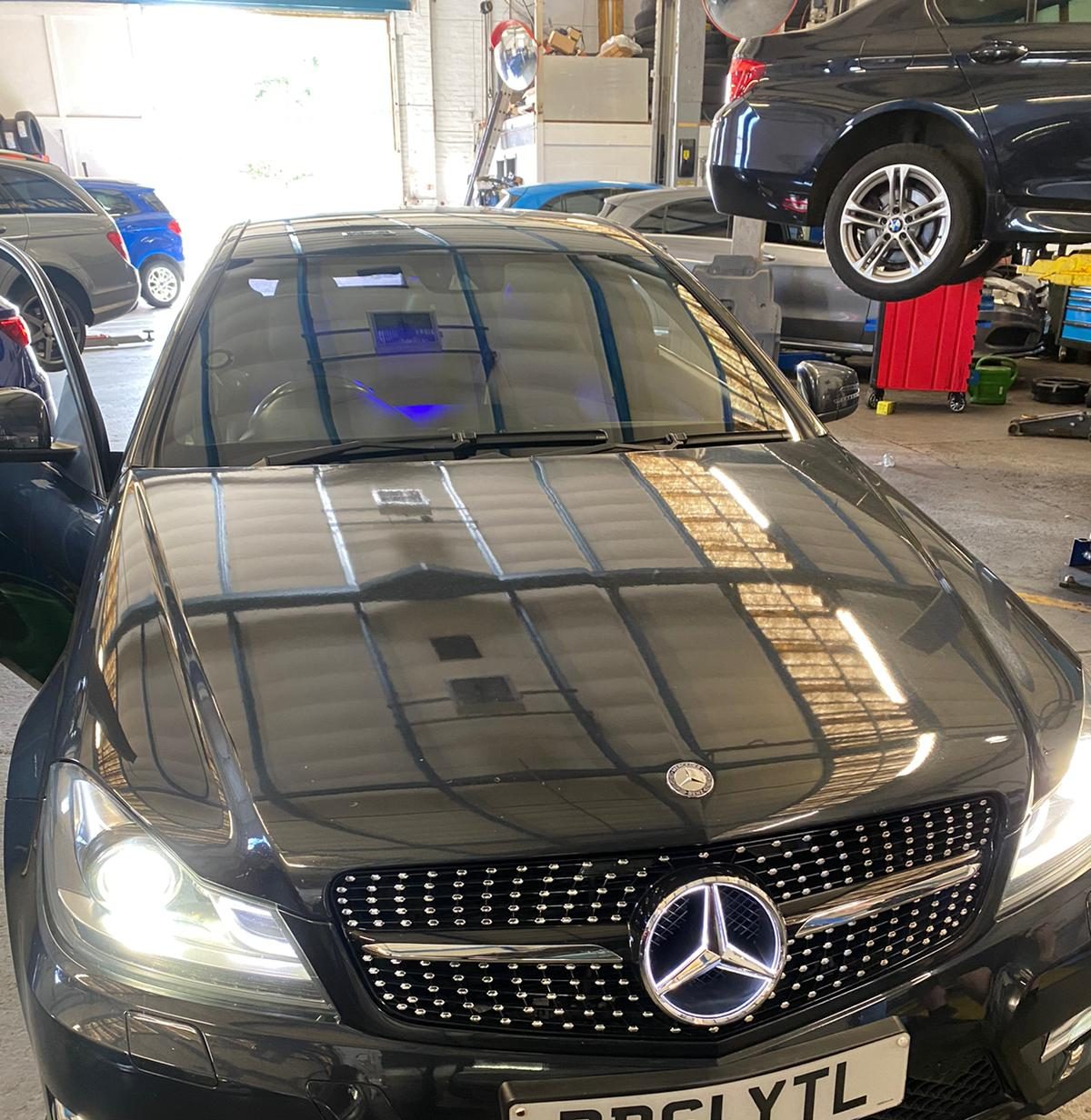 A FAULTY MERCEDES C220 AMG SPORT
When Mr Edgington brought us his Mercedes C220 AMG, he told us there was a fault with the bonnet and airbag system.  The bonnet open warning light was on, as was the airbag warning.  A quick visual inspection confirmed that the warning lights were present, yet the bonnet was closed.  Our experience had us thinking it was a communication problem in the vehicle's software.  But we would need to investigate further to be sure.
At our Mercedes Garage, we connected the Mercedes to our specialist equipment and accessed the car's supply data, allowing us to signpost the fault correctly.  The error codes present were:
A207/B2207 Internal fault in the control unit

A761/C240300 Right front reversible emergency tensioning retractor

520201/C120201 A1 instrument cluster is faulty

520400/C120400 No message received from control unit central gateway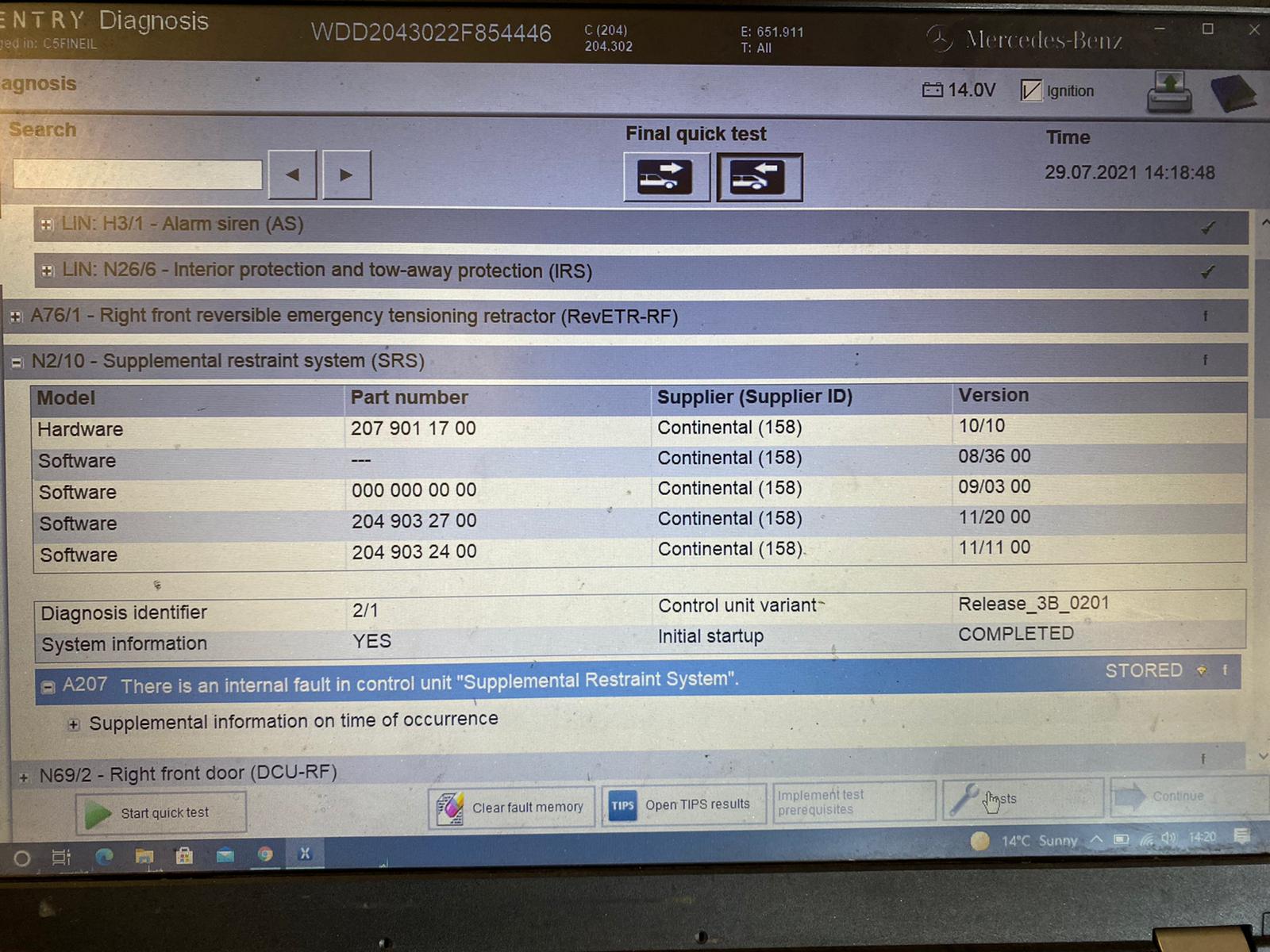 Knowing that the bonnet was shut and all switches registered as closed, our Mercedes Specialists turned their attention to the airbag access control module.  
The Airbag access control module is what controls airbag deployment.  The control module receives information from the impact sensor, which will then deploy the airbags.  So when there is a fault within this module, it could potentially cause a problem for the client's safety when using the vehicle.
Our team of experts stripped the airbag access control module and checked all power connections and groundings.  Confirmed these were working along with all network signals, so we turned our attention to the module itself.
With everything leading to the module working as it should, we could confirm that it was faulty and needed replacing.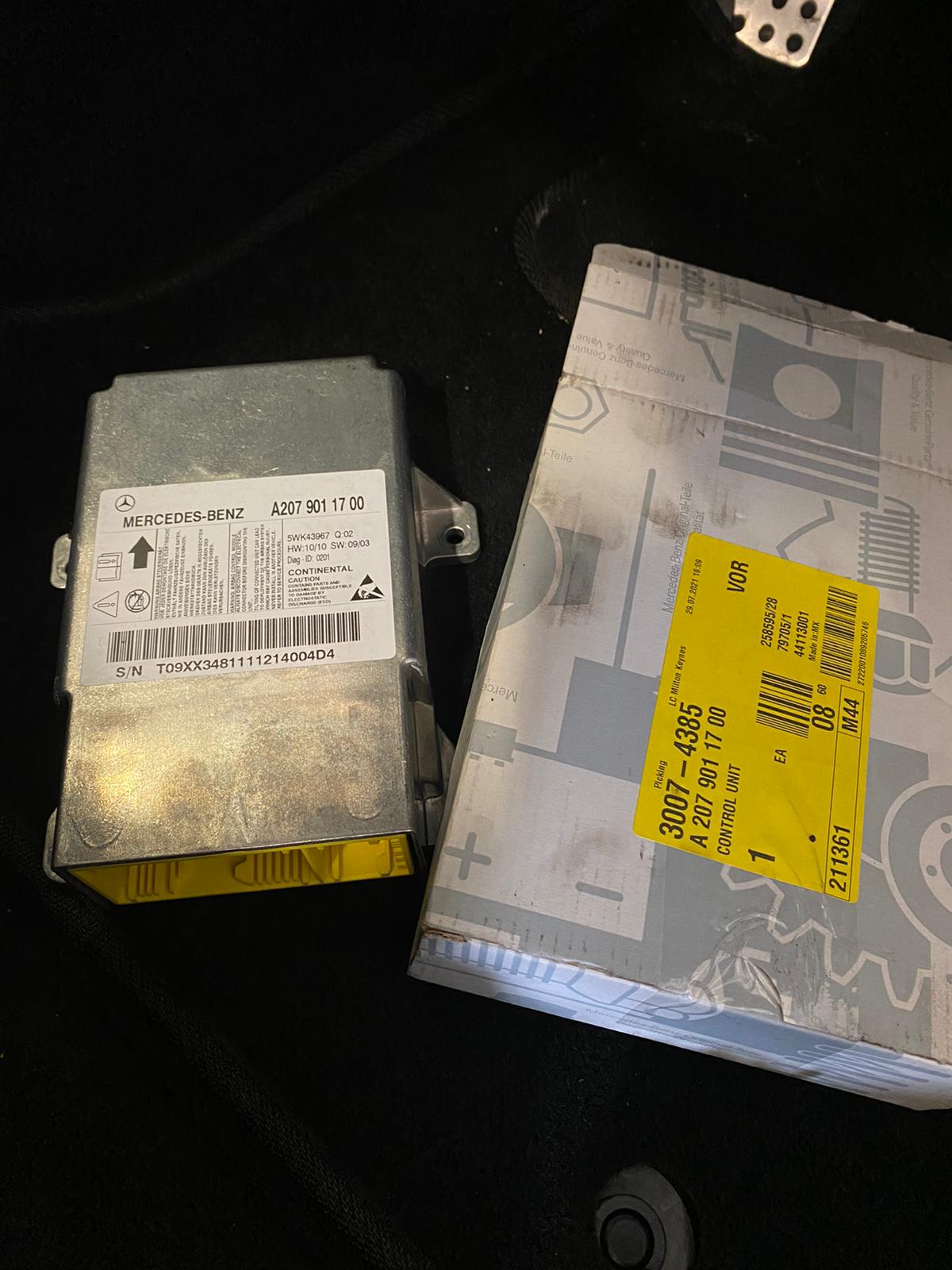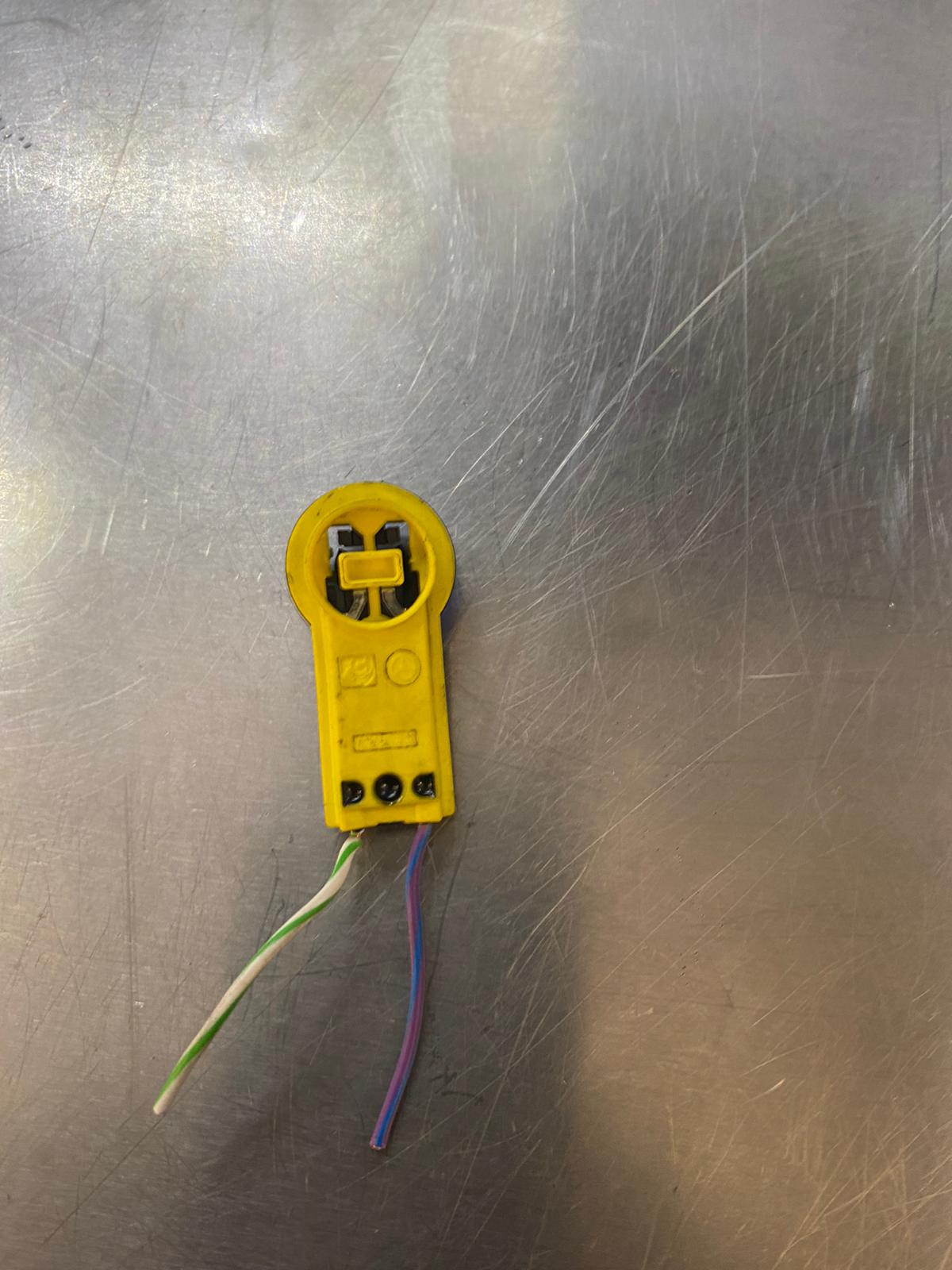 FIXING THE AIRBAG ACCESS CONTROL MODULE
As a local Mercedes Service and Repair specialist, we only use genuine Mercedes parts in all our repairs, which ensures the integrity of our client's vehicles.
So our team of Mercedes specialists replaced the airbag control module.  But this is where it got interesting for our technicians.  When they began coding the new module, it would not accept the new coding as there was a fault present.  A possible fault that might have been overlooked by other garages who don't specialise in Mercedes Servicing.
The fault wasn't there before, which confirmed that the old module wasn't communicating correctly. 
But now, with this new fault, we knew we could investigate further and fix the problem once and for all.  The fault was an issue with the pyrofuse, a fuse that can disconnect to avoid a short circuit or fire when the car gets into an accident or crash.
Having consulted Mercedes wiring diagrams, our technicians located the pyrofuse and confirmed that it was broken.  It was broken when someone had previously replaced the battery to the vehicle, and as the connector is underneath the battery, it had gone undetected.
A broken pyrofuse will signal to the access control module that the car has been involved in an accident, and therefore the whole system believed it was thrown out and thought that the airbag had been deployed.
Our team sourced a pyrofuse connector repair kit, wired the new connector into the Mercedes, and was then able to code the module and confirm that all were working with a complete retest.
FITCH AUTO LOCAL MERCEDES GARAGE
Because of our knowledge and dedication to giving our clients the best servicing and repair results every time, our Mercedes Specialist team could pinpoint the fault, source and replace the necessary parts and get the vehicle back to the client within three working days.  This saved the client time and money by getting the fix right the first time.
Mr Edgington was happy to receive his Mercedes C220 AMG back in working order, with all work completed, confirmed and at local garage prices.
If you would like to book in for your Mercedes Service with Fitch Autos, contact our team today on 01543 452 630, and we will get you booked in.  You won't regret it.