What should you do when your Mercedes-Benz battery drains?
One of the most frustrating issues you may encounter with your Mercedes-Benz is an issue with the battery, which of course, makes the vehicle practically unusable.
Don't get us wrong; there's a reason why Mercedes-Benz are one of the most recognisable car brands on the planet, and to their credit, they craft exquisite vehicles year after year consequently.
For many car drivers, their vehicle is their pride and joy! So when you encounter any issues with your Mercedes-Benz, such as a battery drain, you should consider immediate remedy. 
Unfortunately, battery issues can happen to any motor from any brand. So, whilst the parts that go into your Mercedes-Benz are of the highest quality, issues can still occur.
When Mr Woods sought our help with his Mercedes-Benz SL350, the issue was clear; the battery was completely drained. The battery drain was so bad the car would be completely flat after just four hours. Fortunately for Mr Woods, one of our expert Mercedes technicians was on hand to diagnose and fix the problem.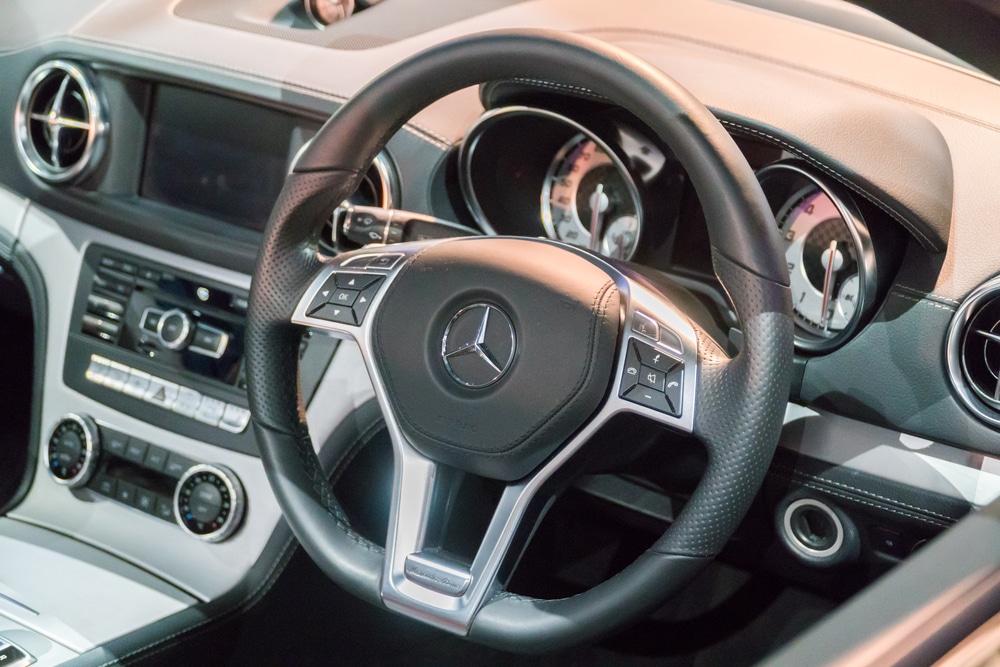 Diagnosing the problem
Mr Woods' Mercedes had previously had work undertaken elsewhere, and despite replacing some parts, the fault was still evident. Interestingly, no relevant fault codes were present; however, our Mercedes experts were able to diagnose the problem thanks to their years of experience together with using the information and wiring diagrams from the online Mercedes WIS system.
Once we had fully charged the battery, we ran a test in which the battery, of course, failed. We replaced the battery and carried out a battery drain test which resulted in a constant 2.2amp drain that rose to 4.5amps for about 5 minutes every 15 minutes or so.
Next, we started testing fuses to see which fuses had current flow when the vehicle was locked, as this would typically reveal one or two fuses which we could pinpoint down to one or two circuits that had current flow. In this case, it was soon self-evident we had a network issue as most if not all fuses on the driver's rear and drivers front SAM module had current flow.
We decided to study the CAN network diagrams and located a point to test the Engine CAN and interior CAN network. The oscilloscope identified that the interior CAN was active and awake even when the vehicle was locked. If the CAN network doesn't shut down, then control modules on that network won't shut down, and they will keep communicating and operating as if the car was running.
Fixing the problem
Our expert Mercedes-Benz technician replaced the Pneumatic control module for the central locking system, causing the module not to shut down. As soon as this module was isolated, the CAN network started to shut down, and after 2 minutes, the network signal was dead, and the control modules could begin to shut down. After 35 minutes, the battery drain was down to a good 0.050 amps.
After replacing the control module with a completely brand new unit, we programmed and SCN coded to the vehicle before re-performing the previous tests and finding no drain and no live CAN network. We then went into the interior CAN network location information and wiring diagram and discounted each of the 42 control modules until the network stopped communicating.
Professional service guaranteed
Here at Fitch Autos, we care about our customers, and that is why we always go above and beyond to provide excellent service. We did this by using our fundamental understanding of electronics, network systems, together with our knowledge of Mercedes, to allow us to fix the problem the first time. By completing the job at the first time of asking, our Mercedes expert technician saved the customer time and money.
We pride ourselves on our decision to diagnose the problem and utilise our expertise to fix the issue. We don't guess and we only replace necessary parts. 
Mercedes-Benz Battery Drain: In conclusion
If you are experiencing problems with your Mercedes, get in touch with one of our expert technicians here at Fitch Autos.
When it comes to your Mercedes Benz, we always advise against allowing issues to build up, although, as in this case, issues can go undiagnosed, there are warning signs to look out for:
Check engine warning light.

Look out for signs of your Mercedes jerking and shaking.

Listen out for unusual noises.

Use your sense of smell for unusual odours.

Check for excessive smoke.

Check for oil puddles.



If you have any of the issues above, get in touch with us today, and our Mercedes experts will have you back on the road in no time.
Call us now at 01543 452630, and we would be more than happy to offer advice or book you in. Make the decision to visit us at Fitch Autos; you won't regret it!