How to stay safe at Fitch Autos and protect yourself and our work area.
At Fitch Autos, we've created a guide for you on how to stay as safe as possible when bringing your car in to our garage.
Any booking must be made over the phone or using our online booking system – we will not be able to accept any walk in bookings at present until further notice.  
The day before your vehicle is due in, you will receive an SMS/E-mail reminder. The reminder will also contain a web link to our self-check-in service, this web link needs to be followed upon arrival of your appointment.
Because of COVID-19. our reception is closed and we're operating a completely contactless drop-off service. 
Upon arrival, open the web link sent by SMS/e-mail and start the self-check-in process. The weblink will guide you through the required steps. 
The self check in will ask you to take a picture of your car parking location and car key.  
During the self-check-in process, you will have to locate and post the key into our key drop off box. This will be labelled and is secure. 
Please see below for pictures of the location of the self check-in key drop box.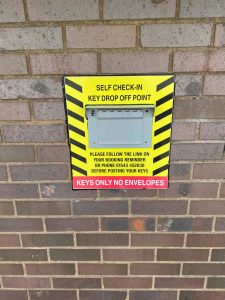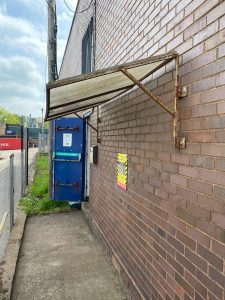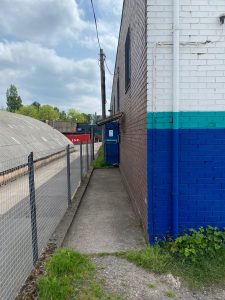 If you do not have a smartphone and would prefer to speak to somebody rather than self-check-in, please call the office on 01543 452630.
All communications will be done via phone and/or e-mail. Please check your contact details during self check-in and correct any mistakes, it's important we have your correct information so we can contact you with updates.
We will be taking payments over the phone or online. No cash or card payments will be accepted in person.
On completion of any work, we will contact you to let you know and arrange a collection time; this is to prevent an influx of customers collecting their vehicles at the same time. 
When you arrive to collect your vehicle, please call the branch and an advisor will come to you and place your invoice and key inside your car whilst keeping at least a 2-meter distance always.
 
For security we will confirm some details, including name, address and invoice value before the handover is complete.