Finally, the winter is over and the UK is enjoying a rise in temperatures and some sunshine again. Of course, when you're travelling by car, this means you'll need your air conditioning running instead of your heater. Since it's been out of action for a while, there's the chance that you'll turn it on and experience a blast of hot air. This is definitely not what you want.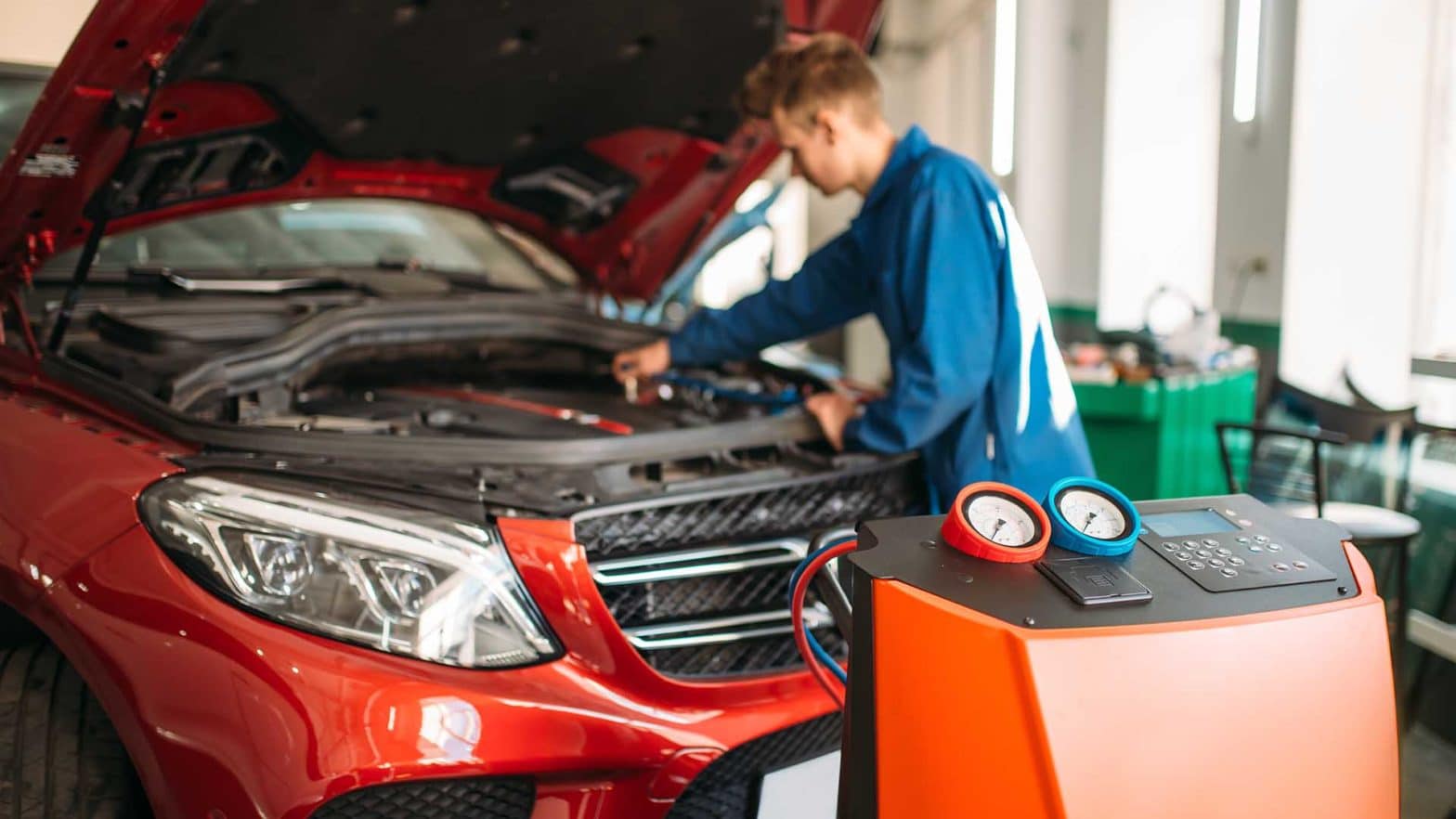 Well, don't worry. At Fitch Autos, we're going to make sure you don't have a sticky journey this spring or summer. This article is going to discuss everything you need to know about your vehicle's air conditioning.
Why It's Important to Get an Air Con Recharge
You may be thinking; is an air con recharge service really worth it? Does my car actually need it? Well, it is more beneficial than you may think. This is really down to the way your car's A/C System is designed. It has rubber hoses to complement the fixed aluminium pipes. Over time, this construction leads to the loss of refrigerant, which is an important gas in your car's air con system. If you don't have the right amount of refrigerant, you won't be able to cool the air in your vehicle's cabin.
At Fitch Autos we recommend to let the air conditioning run throughout the year. When you're low on refrigerant, this can lead to more serious malfunctions with your system that could be costly to fix.
How Does the Air Conditioning Work in Your Car?
Do you want to find out more about how air con systems actually work? Well, we will give you the lowdown on how your car deals with a hot cabin.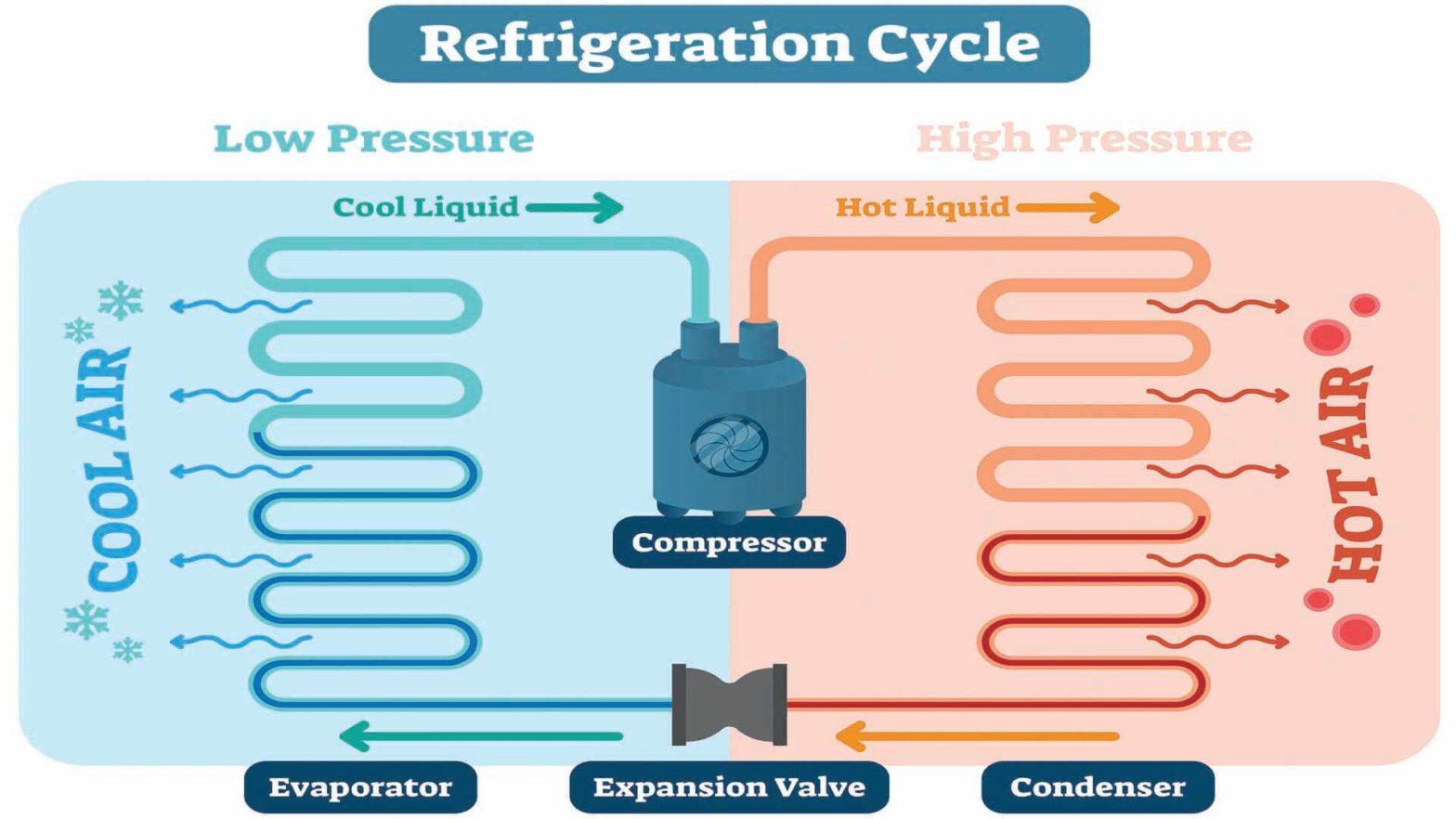 The compressor moves around the refrigerant in your air con system.
It is liquid refrigerant to begin with, which passes through the expansion valve. But this is where it boils and turns into gas. The cabin air will pass over the evaporator.
Whilst the refrigerant is being turned into gas, it absorbs the heat from the inside of your vehicle.
This gas is tempted into the compressor where the temperature and pressure of the refrigerant will rise.
The gas is now passed through the condenser, ambient air is blown over the condenser by your condenser fan.
The heat that was absorbed into the refrigerant will be drawn out of the car.
Your air conditioning system has now moved the heat from the cabin to the outside of the vehicle, and you can now experience cool and refreshing air inside your vehicle!
During the MOT, is the Air Conditioning Examined?
You will find that checking the air conditioning is not included in your Mot. It is also not common for this check to be part of regular manufacturers service schedules either. Normally, there will be an air conditioning service that you have to arrange.
At Fitch Autos, we always recommended that you arrange an A/C system check every 12 months to make sure it's in good order. This includes a service every 24 months too. This will make sure that you are cool and comfortable at all times without any problems.
Why Does the Air Con Stop Working?
The most common cause of your air conditioning system not working is a lack of refrigerant (gas). Without the correct quantity in the system the heat cannot be cooled to the desired temperature.
But the good news is that refrigerant is easy to replace and this will mean that your air conditioning can be back to normal before you know it. Leaks happen through natural loss or if there is a problem with your system.
How Your Refrigerant Will be Replaced – a Re Gas
Let's start by looking at what happens during re gas. It's pretty simple and straightforward for our mechanics.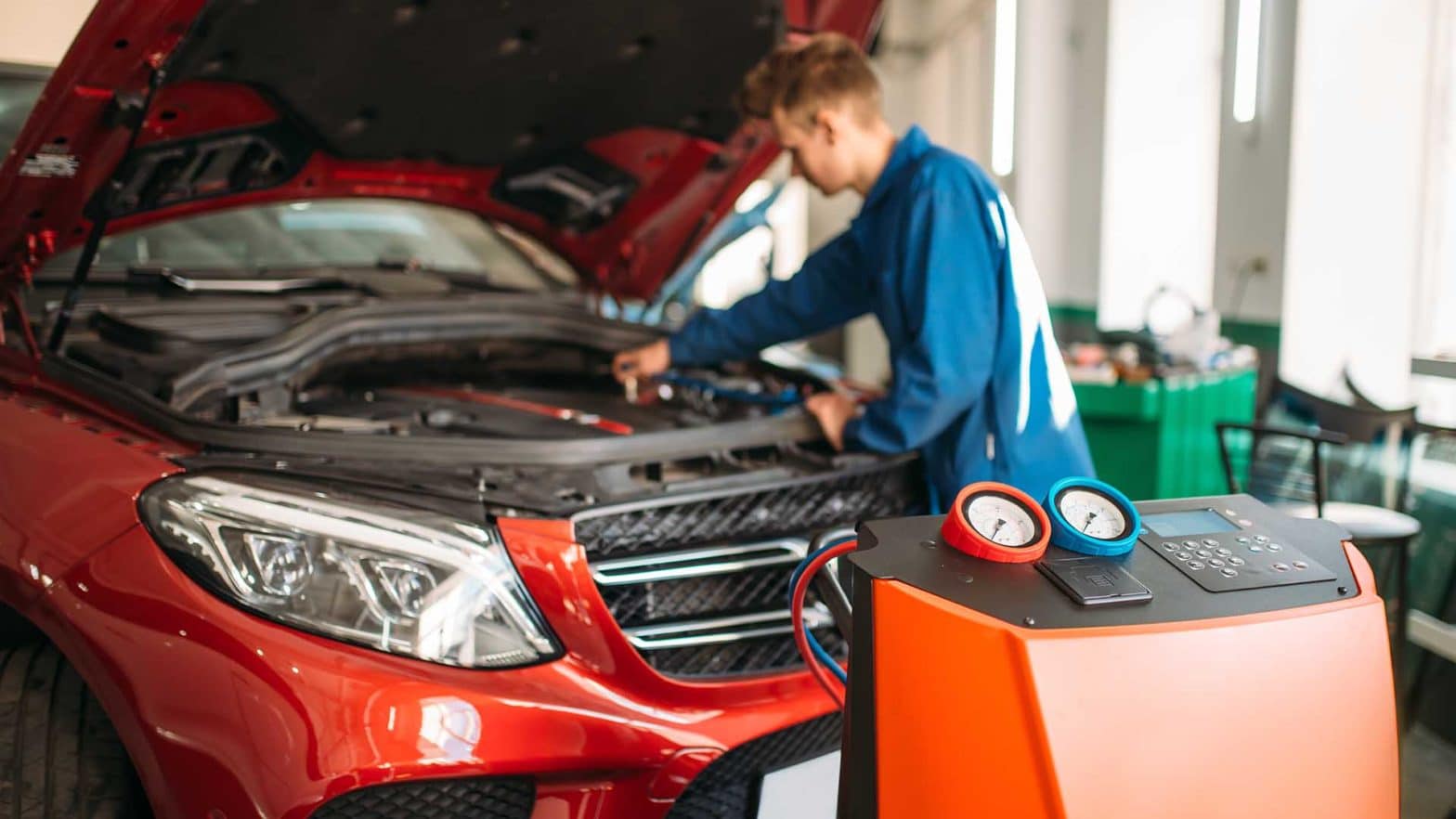 We start with a performance test to see how your air conditioning is working. We test the temperatures inside the vehicle and the ambient air.
We remove the refrigerant. It will be weighed and we'll compare it to the quantity that is advised for your car.
We carry out a vacuum leak check.
For a thorough investigation, we also carry out a pressure leak.
A specialist vacuum pump is used to remove moisture inside the A/C system.
We add dye so that this can help us spot any leak detection in the future.
We add oil where it's required.
We will replace the refrigerant with the right quantity.
We run a performance check again to make sure everything is correct and that your air conditioning is cooling efficiently and effectively.
Air Con Re Gas VS Air Con Service?
So, we've gone over an A/C re gas. But what exactly is involved in an air con service and how does it differ? Here are a few of the common items carried out on an air con service to ensure your cabin remains cool and free of nasty odours.
The A/C condenser fan is checked.
Cleaning of the A/C condenser takes place. This includes removing leaves and debris to improve heat exchange.
Compressor drive belt inspected and condition reported.
Inspection of the A/C pipes under the bonnet.
Replacement of the refrigerant receiver dryer or accumulator.
Prevent pollutants by inspecting or replacing pollen filters.
A/C de bug treatment if there is bacteria present in the cabin vents.
An air con service is best every 24 months, alongside re gas checks. This is going to make sure your air con is working and lower the risk of costly faults developing from a lack of maintenance.
How to Prevent Faults with Your Air Conditioning System
Do you only use your air conditioning during the spring and summer months? This may be a reason why you are experiencing faults with your vehicle's A/C system. You should really have your air con running throughout the year to prevent faults. It can also be great for dehumidifying and demisting your cabin. Keeping the system ticking over during the year can make sure you don't have repairs later on.
So, do you still have a problem with your car's air conditioning?
At Fitch Autos, we can help you out. We are air conditioning experts, with lots of knowledge and experience when it comes to fixing the problem. Air conditioning isn't supposed to make you hot and sweaty – we'll get it back to its best in no time.
Just give us a call today on 01543 452630